Soccer is now the post popular sport in the world!  It's been around for centuries, and because of the Fifa World Cup held every 4 years, people all around the world tune in to watch a match.  This year, there is a Fifa World Cup! It's being held in Rio, Brazil.  Did you know that the next Summer Olympics in 2016 are also being held in Rio?  Well, if you didn't, you now know.  There have also been many extraordinary soccer players with brilliant skills... and I don't just mean forwards and goal scorers.  You will now get to see videos of some of the best soccer players ever, and with that, a little bit of their history.
I would have made a ranking from #1- #10, but it's impossible to compare legends from different times.
The God of Soccer- Pele
Here's a picture of Pele doing one of his famous bicycle kicks.  
Born in 1940, he emerged from a poor Brazilian family, and became the greatest soccer player                                                         

  

ever, with a record breaking 1282 goals scored in 1366 games!  He also represented Brazil at a mere age of 17!
The Golden Boy/El Pibe De Oro- Maradona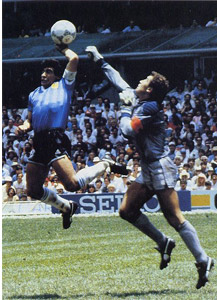 This is probably one of the most well known goals in the history of soccer, and no wonder The Hand of God is Maradona's goal.  This man is in my opinion the second best                                     

  

soccer player to have ever lived, but some people argue that he is the best; even better than Pele!  Maradona also represented his country: Argentina, at a young and tender                                   

 

age.  He is currently coaching Argentina, and one of its finest stars: Messi.
The Little Maestro- Messi
Messi is one of the greatest players of all time.  He may not be the best, but he's my favourite.  He's called The Little Maestro because he's about 5 feet 6.5 inches                                             

      

tall, and yet he can play with such skill, that he makes professional defenders look like fools!  This player is getting better and better each year.  He's the best                            

 

                       

     

soccer player at the moment.
Some other players I really like are Cristiano Ronaldo, Ronaldo (the former soccer player from Brazil), Ronaldinho, as well as
 Zidane.